The regulation of cannabis in Thailand has acted as a catalyst, transforming a once-shadowy industry into a robust, diverse, and quick-expanding market. And with more businesses getting into this niche, ensuring product quality is important. That's when you would want to know how to store cannabis properly so that it stays fresh for longer.
Know this: As with any perishable product, the way you store cannabis significantly impacts its potency, flavour, and freshness. Whether your dispensary is small or big, understanding the science behind cannabis storage is not just about preserving product quality—but it's also about maintaining compliance and fostering trust with your consumers.
Today, we will explore the best practices to store cannabis while ensuring its longevity and preserving its therapeutic and recreational qualities. Let's get started.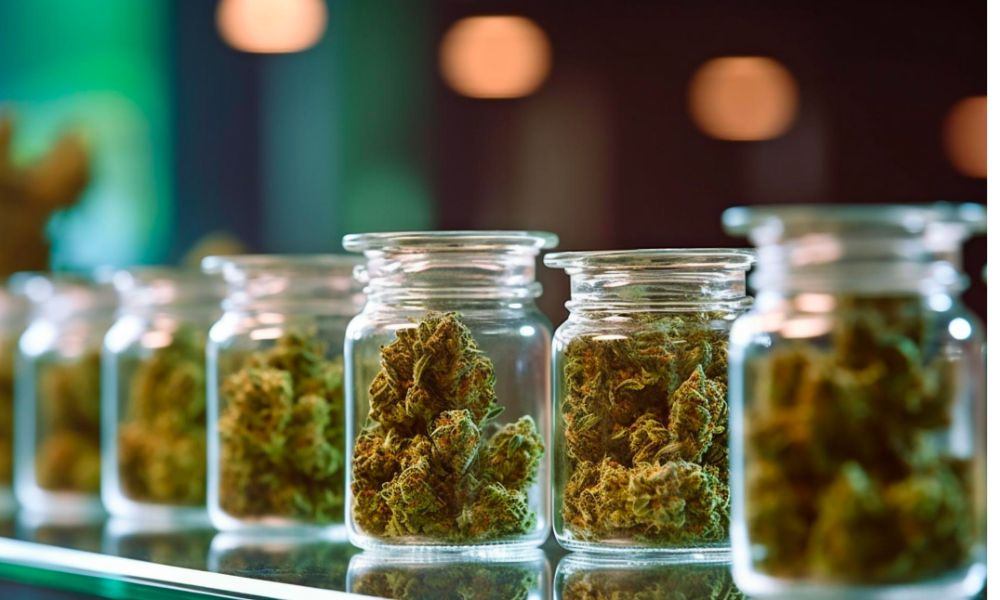 Proper storage helps maintain the product's quality, including its aroma, flavour, and potency. This is crucial for ensuring that customers receive the best possible experience from their purchase.
Proper storage helps prevent contamination of cannabis products by moulds, bacteria, and other pathogens. By storing cannabis correctly, your dispensary can extend the shelf life of your cannabis products.
1. Understand the enemies: Light, air, temperature, and humidity
Various environmental factors can trigger cannabis degradation. The primary culprits are:
2. Choose the right storage containers
Glass jars with airtight seals are the gold standard for cannabis storage. They prevent air exposure and preserve the cannabis's natural aroma and flavour. Ensure the containers are tinted or stored in a dark place to protect against light degradation.
3. Maintain a consistent temperature
The ideal temperature for storing cannabis is between 15°C and 21°C (60°F and 70°F). Avoid storing your product near windows, electrical equipment, or heat sources. Consider investing in a climate-controlled storage room if you're in an area with significant temperature fluctuations.
4. Monitor and control humidity
Maintaining a relative humidity (RH) level of 55% to 62% is optimal for cannabis storage. This range preserves the product's quality without promoting mould growth. Using humidity packs inside your storage containers can help regulate this. Moreover, investing in a hygrometer can provide accurate readings and alert you to fluctuations.
5. Protect it from light
Exposure to direct sunlight or even strong artificial light can degrade cannabinoids and terpenes. This has two unfavourable outcomes—one: loss in potency and two: change in flavour. Protecting cannabis from light is crucial to maintaining its therapeutic and recreational qualities.
6. Limit the oxygen exposure
Every time you open the container, the cannabis inside is exposed to oxygen. While it's unavoidable for display products, keep your bulk storage sealed as much as possible. Vacuum-sealing can be beneficial for long-term storage.
7. Keep your storage cabinets clean
Ensure your storage area is clean and free from contaminants. Regularly sanitise the shelves and containers. This not only prevents mould and pests but also ensures compliance with health regulations.
8. Opt for vertical storage
When storing large quantities, avoid stacking cannabis containers on top of each other. Instead, use vertical shelving units. This promotes air circulation and reduces the risk of crushing or compacting the product.
9. Limit cannabis handling
Every time cannabis is handled, there's a risk of trichome damage, which can degrade the product's quality. Train your staff to handle the product as little as possible, using tools like tongs instead of direct contact.
10. Rotate the stock regularly
Adopt the FIFO (First In, First Out) method. Ensure that older stock is sold before the new one, preventing any product from sitting too long.
Benefits of Storing Your Cannabis Properly
Storing cannabis correctly is not just a matter of prolonging its shelf life; it carries a host of benefits that enhance the overall user experience and preserve the integrity of the product.
Primary benefits of proper cannabis storage:
Summary
For any business to thrive, reputation is everything. A single instance of compromised quality can have long-term repercussions for your dispensary's image. Proper storage practices play a pivotal role in avoiding such mishaps.
Beyond the apparent loss from unsellable stock, bad cannabis storage practices can have broader financial implications, too. So, implement the best practices outlined above to increase the shelf life of cannabis, allowing your business for more extended sales periods.
This flexibility can be advantageous in balancing supply and demand, ensuring that your products don't have to be sold off at discounted prices before they degrade.
Other Articles