Proper cannabis storage might seem like just another operational detail, but it is vital to make your cannabis business successful. And the ripple effects of overlooking this crucial aspect can lead to financial setbacks and reputational damage.
Also, cannabis that has degraded due to poor storage conditions loses its potency, aroma, and flavour. Such a product can't have the same premium price as top-quality cannabis, leading to reduced revenues. And the culprits? Sunlight, heat, and humidity!
The conditions under which you store your cannabis determine its shelf life and efficacy. By understanding the effects of sunlight, heat, and humidity on cannabis, you can optimise the storage practices to ensure two things:
Direct sunlight exposes cannabis to ultraviolet (UV) radiation. UV radiation further degrades various organic and inorganic compounds.
What happens if you expose your stored cannabis to sunlight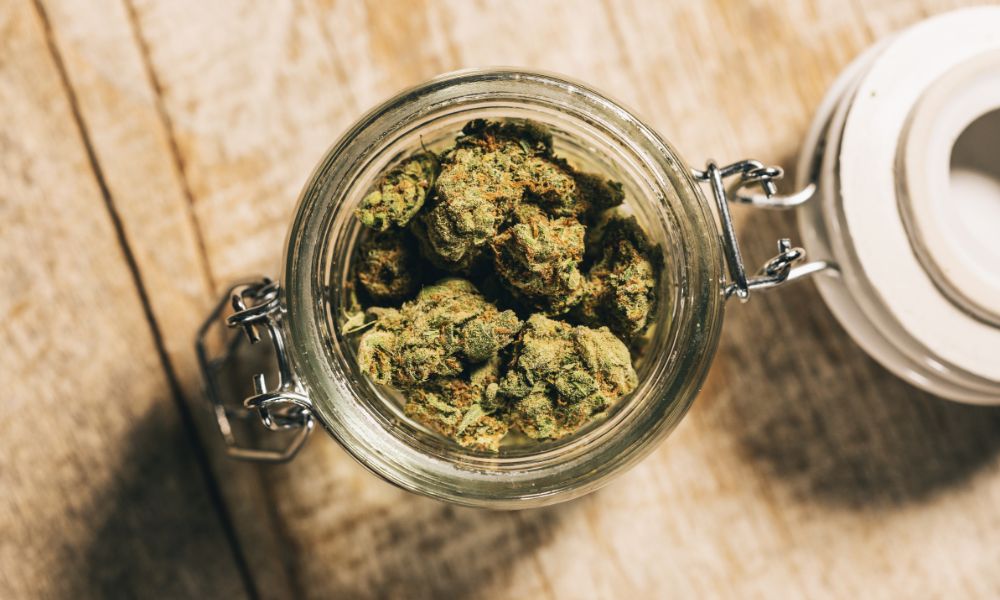 1. THC begins to degrade
Direct exposure to sunlight, primarily UV rays, can degrade the THC content in cannabis. THC (tetrahydrocannabinol) is the primary psychoactive compound in the plant.
When exposed to UV radiation, THC undergoes a chemical transformation and degrades into a less psychoactive compound called CBN (cannabinol). Eventually, cannabis loses its potency.
UV radiation
THC ​ ——————-> CBN
2. Terpenes start to oxidise
Terpenes are responsible for the distinct aroma and flavour profiles of different cannabis strains. Prolonged exposure to sunlight can degrade and oxidise terpenes, changing the aroma and flavour profile of the cannabis.
3. Colour of the cannabis fades
Just like how fabric fades in the sun, cannabis buds can lose their vibrant green colour, too. They appear less vibrant and more brownish.
4. Cannabis dries out slowly
Sunlight can cause cannabis to dry significantly, leading to brittle and crumbly buds. Overly dry cannabis can result in a harsher smoke when consumed.
5. Shelf life reduces
The combined effects of UV radiation and heat from sunlight can accelerate the ageing process of cannabis, reducing its shelf life and overall quality over time.
2. Heat
Heat can accelerate the degradation of cannabinoids. When cannabis is stored in warm conditions, the THC can convert into CBN (Cannabinol), a less psychoactive compound.
What happens if you expose your stored cannabis to heat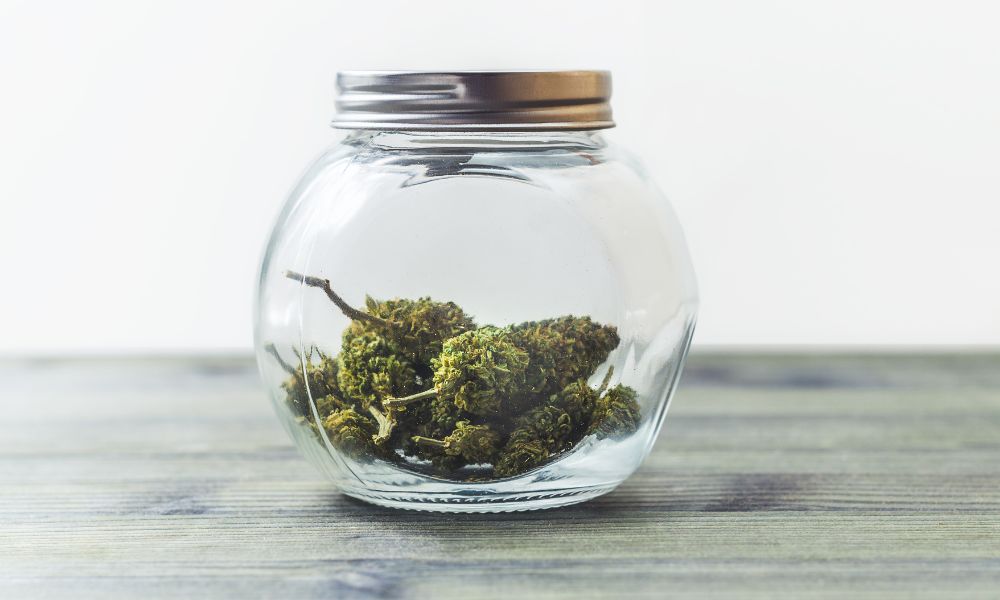 1. The chemical composition changes
Heat can accelerate the decarboxylation process, which converts THCA (tetrahydrocannabinolic acid) into THC. While this might sound like a good thing, excessive heat can further degrade THC into less desirable compounds like CBN.
2. Volatilises the terpenes
Terpenes, the aromatic molecules that give cannabis its distinctive bouquet of scents and flavours, are naturally volatile. High temperatures can lead to the rapid evaporation of these compounds, robbing the cannabis of its unique aromatic and flavour profile.
3. Mould and bacteria start to thrive
While heat is a concern, it often pairs with another adversary: humidity, especially if cannabis is stored in a non-airtight container. Warmer environments, especially if not well-ventilated, can escalate humidity levels. This combination creates a breeding ground for mould and bacteria, posing a dual threat—compromising the cannabis's quality and ruining its taste and aroma.
4. Compromises trichome integrity
Trichomes are tiny, crystalline structures on the cannabis plant where cannabinoids and terpenes are stored. Heat can cause these delicate structures to become brittle, leading to breakage. Thus, resulting in a loss of potency and flavour.
5. The consistency changes
For cannabis products like concentrates, heat can alter their consistency. For instance, a normally solid or semi-solid concentrate might become runny or sticky, making it harder to handle and use.
6. Makes the cannabis brittle
Excessive heat can sap the moisture from cannabis buds, making them overly dry and brittle. This not only affects the texture and handling of the cannabis but can also lead to a harsher and less pleasant smoking experience.
7. Compromises the safety and quality
At extremely high temperatures, there's a risk of combustion or the release of harmful compounds, especially if the cannabis is stored near flammable materials.
3. Humidity
Humidity is a measure of the amount of moisture in the air. While some moisture is essential to prevent cannabis from becoming too dry and brittle, excessive humidity can lead to several issues. The ideal relative humidity for storing cannabis is between 59% and 63%.
What happens if you expose your stored cannabis to humidity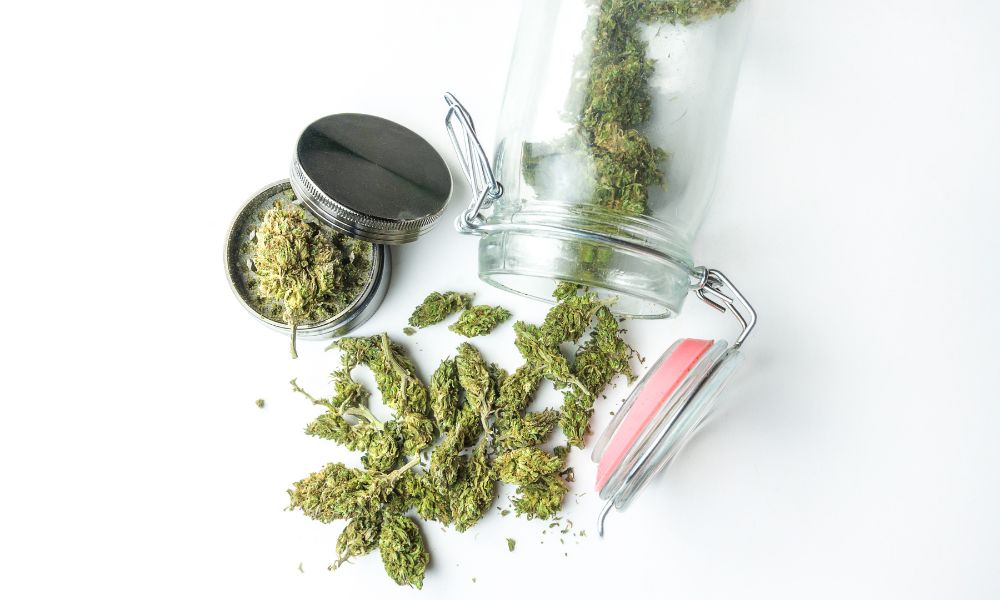 1. Terpenes begin to oxidise
Just like with heat, an incorrect humidity level can also degrade terpenes. High humidity can lead to the oxidation of terpenes, while low humidity can cause them to evaporate.
2. Mould and mildew thrive
One of the most significant risks of high humidity is the growth of mould and mildew on cannabis buds. These fungi thrive in moist environments and can quickly colonise cannabis, making it unsafe for consumption.
3. There's a potency loss
Excess moisture can degrade the cannabinoids and terpenes in cannabis, reducing its strength and overall quality.
4. Alters the cannabis's flavour and aroma
Terpenes, responsible for the flavour and aroma of cannabis, are sensitive to environmental conditions. Exposure to humidity can alter or degrade these compounds, changing the taste and smell of the cannabis.
5. Affects the cannabis texture
Cannabis stored in humid conditions can become damp and sticky, making it harder to grind and less pleasant to handle.
6. Increases the risk of pests
Pests, such as spider mites and certain types of beetles, are attracted to humid environments. These pests can damage stored cannabis and further reduce its quality.
7. Consumers experience a harsher smoke
Terpenes are responsible for the distinct aroma and flavour profiles of different cannabis strains. Prolonged exposure to sunlight can degrade and oxidise terpenes, changing the aroma and flavour profile of the cannabis.
8. Shelf life decreases
Cannabis that's exposed to humidity has a shortened shelf life due to the increased risk of mould, mildew, and other factors. These can degrade its quality over time.
Don't Use Plastic Containers to Store Cannabis
Plastic containers may seem convenient, but they are not the ideal choice for storing cannabis in your dispensary.
Instead, use mason jars to store cannabis in your dispensary
Mason jars offer airtight seals, UV protection, durability, ease of cleaning, and the versatility to choose different sizes. They keep your products 100% fresh and potent, making them a popular and practical option in cannabis dispensaries.
Conclusion
Remember, your dispensary's success is tied to the quality of your cannabis products. While you might be tempted to cut corners, thinking that storage is just a minor component in the grand scheme of things, the implications of bad cannabis storage can be profound!
Not only does it lead to tangible and intangible losses, but it can also put your entire cannabis business at risk. Customers expect consistency and quality when they purchase cannabis. Providing them with a subpar product due to poor storage practices can tarnish your dispensary's reputation.
Word-of-mouth travels fast, and negative reviews can deter potential customers, leading to a decline in patronage. The battle against sunlight, heat, and humidity is continuous for your dispensary. But implementing the best practices mentioned above can help your business deliver the finest quality cannabis to your consumers.
Other Articles